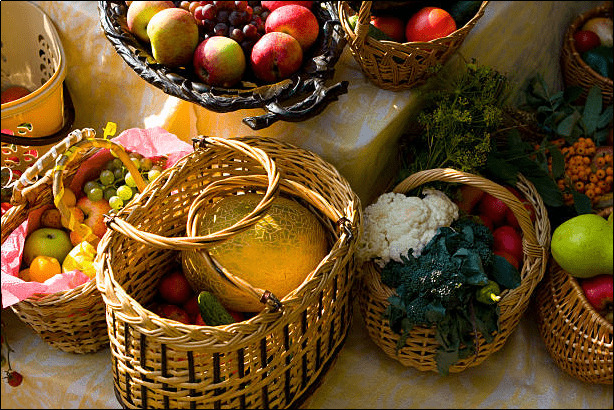 Food trade is an essential aspect of the economy, and it's continuously growing as every country is looking to participate. So, food producers must take necessary measures to ascertain that all food items they produce are safe and nutritious enough for good health and sustenance. This article will introduce you to four steps food manufacturers can take to ensure food safety. Read ahead!
Food safety involves a series of processes and procedures for preparing, handling, and storing food during each production stage targeted at reducing the risk of developing food-related illnesses. It involves using machines and equipment to detect contaminants and foreign substances in food products.
The operations involving food production, processing, and storage are elaborate, exposing food to many chemicals and contaminants. So, if proper measures are not implemented, food items may contain unwanted substances that may cause severe health hazards.
Some food items like yogurt may even contain microorganisms requiring more strict protocols to ensure human safety. Therefore, manufacturers must ensure food safety at every production stage as a priority.
According to statistics by WHO, unsafe food items cause more than 200 diseases, ranging from common diarrhea to more severe health issues like cancer. Let's examine some other reasons why food safety is a prime concern.
Avoid Contamination and Foodborne Illnesses
Food manufacturing involves several production steps, including preparation, handling, processing, etc., which may subject food to harmful bacteria and contaminants. These toxic substances may cause humans to fall victim to food-borne illnesses, food poisoning, or other food-related injuries.
Hence, it is paramount that manufacturing industries that specialize in producing edibles maintain stringent food safety regulations.  Most food-related illnesses and poisoning are often caused by microbial contamination from bacteria, fungi, salmonella, viruses, etc. These organisms may contaminate milk, water, meat, poultry, seafood, or other food.
Likewise, there are physical contaminants, mainly from food production and packaging materials. For example, metals (aluminum, iron, stainless steel, etc.), plastics, glass, rubber, and even stones, may cause food-related injuries. Though the most common are physical hazards, biological and chemical hazards are also possible.
Food Safety Legislation in the World
Many countries have individualized laws and regulations regarding food safety. One of the most important regulations is HACCP. These rules and standards are set up by regulatory bodies to ensure that manufacturing companies abide by food safety legislation.
Even if your product passes your country's regulations, it must comply with their legislation if you intend to export to other countries unless such products would not be allowed for sale in such a nation. Therefore, food producers must abide by all the necessary precautions and practices to ensure their products align with food safety legislation worldwide.
The Cost of Food Recalls for Food Production Companies
A recall order is given when a food manufacturing company realizes its product is harmful to the general public. The action involves removing every batch of that food item from the market, distributing it, and making it unavailable to consumers. So, it's a pretty expensive ordeal for the food manufacturing company.
Therefore, these industries must abide by all top-notch manufacturing practices to ensure their safe foods. Before food and drinks are made available to the public, they pass through a series of tests from regulatory bodies. If a company's product should fail these tests, the company will have to recall all their products in circulation and risks facing enormous legal actions which may attract punishments.
4 Steps to Ensure Food Safety
We have stressed the importance of maintaining food safety during food production. Here we will examine four steps to help food manufacturing industries ensure food safety as they prepare, handle, process, package, and store food items. Let's get right into it.
Step 1: Use Professional Detecting Equipment
As the owner of a food production company, it is essential to place a high demand on product quality, safety and hygiene during every production step. Professional detecting equipment is excellent for adhering to food safety standards and regulations. These devices can detect physical, chemical, and biological contaminants that may be present in foods. So, manufacturing companies that intend to make products that meet food safety regulations and adhere to the relevant authorities need this equipment.
These companies must always have in mind that they are providing products that humans get into their body system, so abiding by safety rules, even though they may be enormous, must be a priority. In today's world, most manufacturing industries often use two kinds of professional detecting machines – metal detectors and X-ray inspection systems. 
Let's give a brief overview of this equipment.
We mentioned earlier that food products may get contaminated by physical substances, such as metals, besides biological substances. A typical example is the Easyweigh metal detector – a machine capable of detecting metal and foreign substances in food items mostly devoid of metallic substances.
Our Easyweigh metal detector can detect ferrous metals, like iron and stainless steel, and non-ferrous metals, like aluminum and copper. We have a wealth of experience, as we specialize in producing metal detectors for quality control, quality assurance, and food safety purposes. Yet, we continue to innovate and improve their craft.
Below is a typical example of the Easyweigh representative products.
This kind of metal detector showcased above supports intelligent learning functionalities, making operating it straightforward with easy control. Therefore, using the device for food inspection requires no special technical knowledge or experience.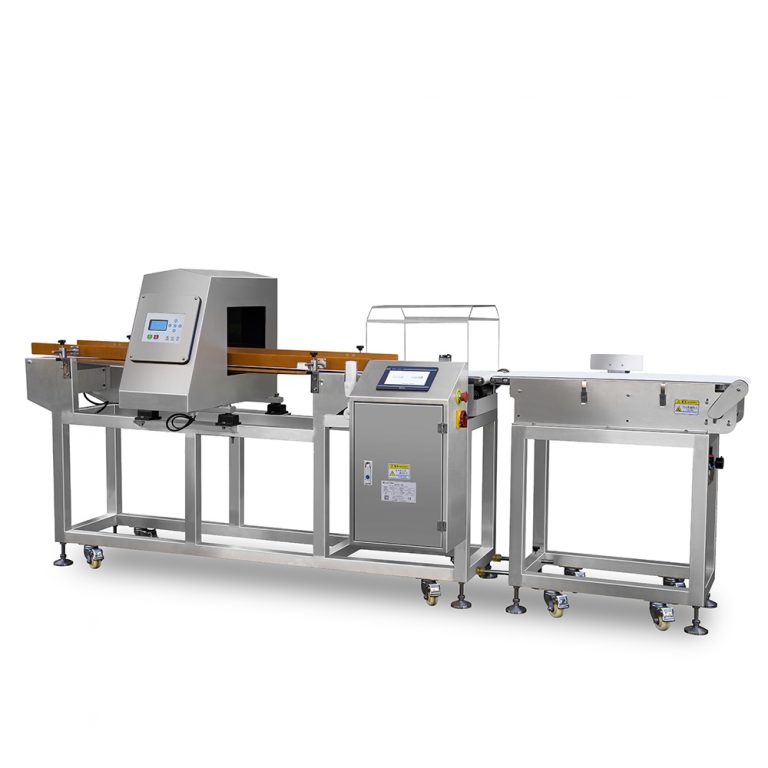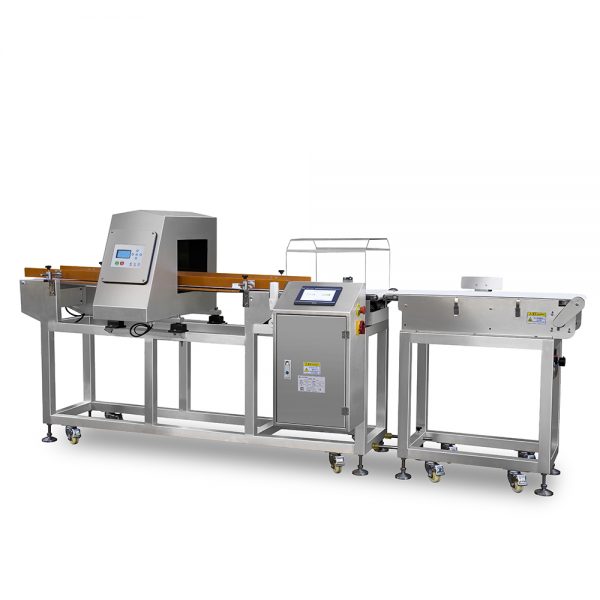 The machine pictured above possesses more functionalities beyond the regular detection of metal contaminants. The Easyweigh Combi metal detector and checkerweigher possesses intelligent learning functions that allows you to set product parameters, especially weight of food items. So, in this case, the machine rejects products whose weight deviates from the target weight. Also, operating this device is pretty straightforward, even for individuals who don't have prior knowledge of how to use it.
The X-ray inspection systems are equipped with more functionalities than metal detectors. For instance, metal detectors cannot detect contaminants in food products that come in metal packaging. For such food items, the professional detecting equipment of choice is the X-ray inspection system, with our Easyweigh X-ray inspection system being a typical example. It is capable of detecting foreign substances in products packaged with aluminum films.
Below are our recommended models for the X-ray inspection systems.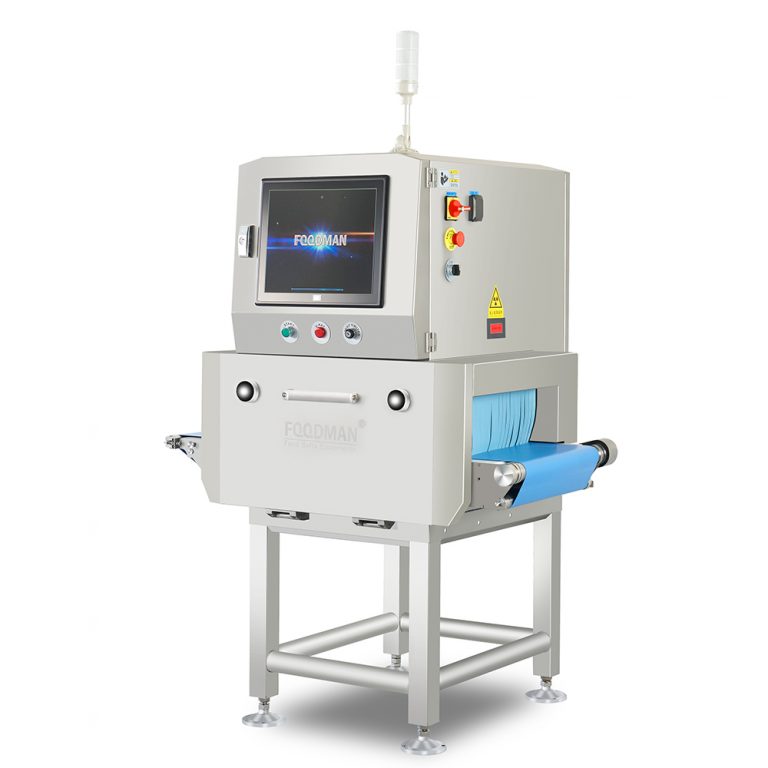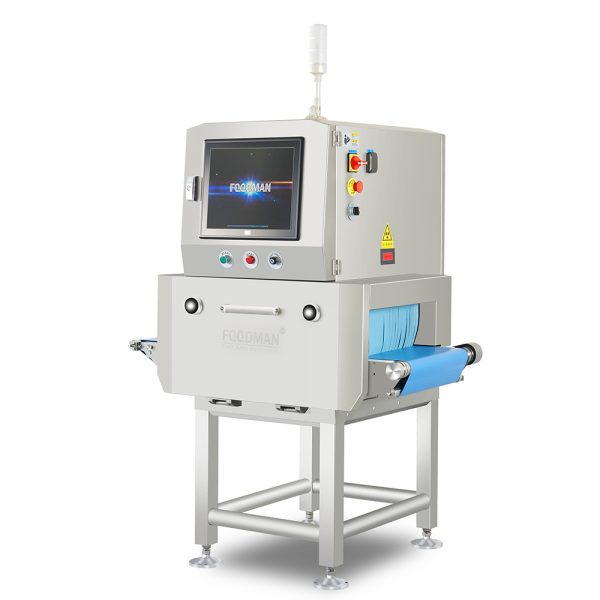 This X-ray inspection model can shield parts of the products that don't require inspection for more accurate results. For example, you can set up the machine to ignore your product's desiccant and aluminum buckle to ensure that the product inspection is specific to only food items.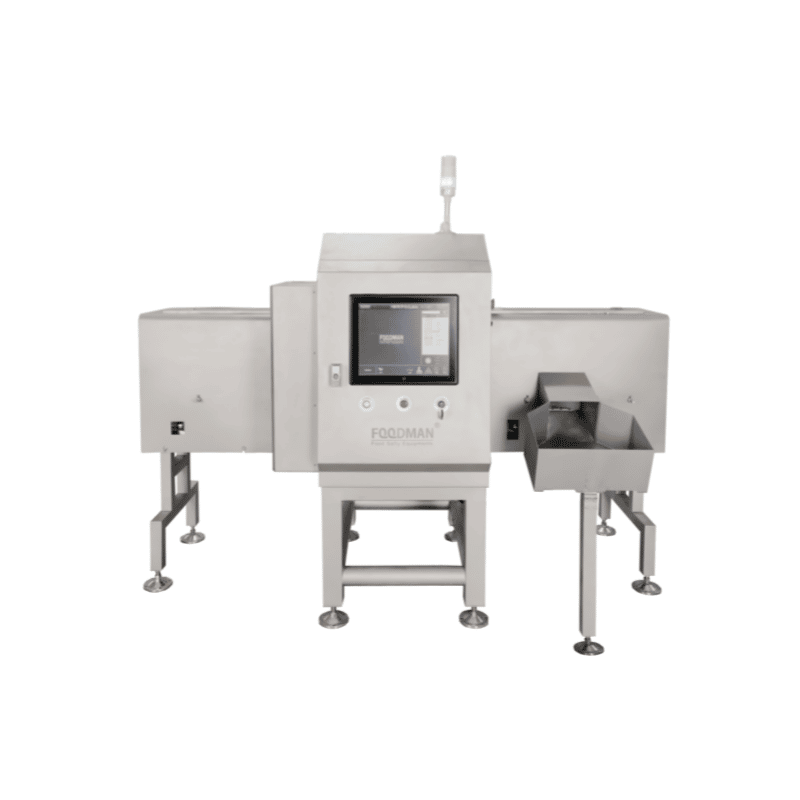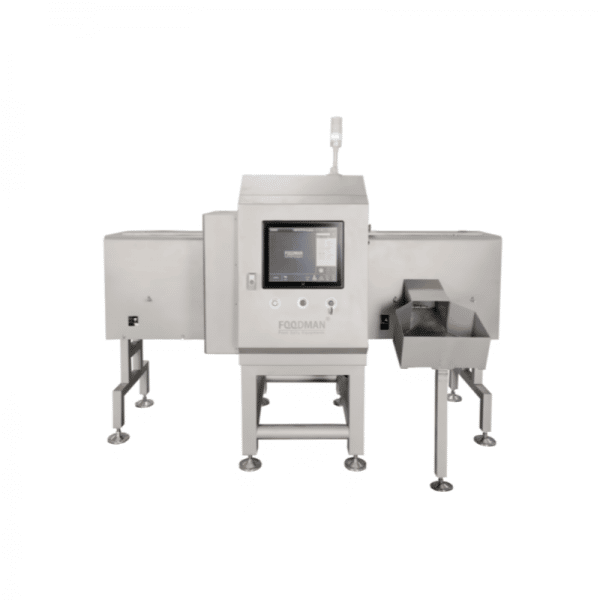 This X-ray machine shows top-notch performance, making it a common choice in many food manufacturing industries, especially for inspecting vertically packaged products.
Step 2: Clean Equipment And Environment
Besides the detection of contaminants, it is vital to maintain cleanliness in food industries. All the manufacturing machines and equipment used at every production stage must be properly cleaned before use. Also, the environment must be neat in everything, as this will help reduce the microbial load and other contaminants. In fact, if professional detecting equipment is contaminated, the inspection results will be flawed.  
The Equipment is Easy to Clean.
Most food factories have a set of guidelines guiding their production lines. One basic such regulation is to ensure that all production machines and equipment are cleaned before and after use. In complex processing procedures, devices may be left with raw materials. In such cases, if the cleanliness of the machines is not made a priority, such sites are suitable breeding spaces for microorganisms, especially bacteria and fungi.
So, should the product continue with proper measures to curb the microbes, they may contaminate that production stage, affecting the entire batch and potentially detrimental to human health. Therefore, it is vital to use easy-to-clean food inspecting devices to promote factory food safety measures.
The Environment Needs to be Clean.
In addition to regular cleaning of production machinery and equipment, maintaining cleanliness within the production area must also be of utmost importance. It is best when such cleaning is performed daily as opposed to any other schedule. Each company should hire cleaners and create daily cleaning regulations that they must abide by to ensure that the production environment is always clean.
Step 3: Maintain Equipment
Regardless of the kind of industry, it is always better for manufacturing companies to carry out proper preemptive maintenance.
What is Important to Maintain Equipment?
In food manufacturing companies, regular maintenance of machinery is indispensable. Besides the apparent increase in machine lifespan, below are four other reasons to carry out routine maintenance.
Operational Efficiency: Maintaining machine parts through regular lubrication, regulating and monitoring calibration, and cleaning helps ensure that the device remains in good condition and works optimally.
Food Safety: Proper maintenance practices will enhance safety standards for the food items it manufactures.
Repair Costs: Preventive maintenance, such as replacing machine oils, is an intelligent way of reducing costs, as corrective measures are often more expensive. Therefore, manufacturing industries can make more profits through routine maintenance.
Functional Performance: Besides quicker operations, maintenance helps ensure that machines consistently deliver products of top quality.
How should I Maintain Equipment?
Below are simple ways of ensuring machine maintenance in the food manufacturing industries.
Set a Schedule: A detailed maintenance schedule that aligns with the manufacturer's policy is an excellent maintenance practice.
Document Maintenance Practices: Documenting the maintenance procedure ensures that you are well aware of the device that requires maintenance.
Ensure to Adhere to the Manufacturer's Policies: The machinery manufacturer is always more knowledgeable about the device, so users should stick to the manufacturers' guidelines.
Always Carry Out Temporary Fixes: Preventive maintenance allows you to correct simple issues before it becomes a major default in the device.
Step 4: Handle The Equipment Correctly
Companies must ensure that all their workers, especially newly employed ones, are adequately introduced to the machines and equipment they'll be working with to ensure that they are adept at the proper use.
Staff Need to Hand the Equipment Correctly
Every manufacturing company must have guidelines indicating equipment and machines' proper handling and use. Factory workers may need to clean their hands or wear protective gear when using these devices to prevent contaminants in food products. Also, correct machine handling helps to streamline the manufacturing process, reduce damaged products, and, most importantly, promote food safety.
Clean to Use the Equipment
Besides handling, staff must always clean equipment before and after use to ensure it is free of contaminants. Machines left uncleaned may attract germs and other microbes that will harm humans if left in foods distributed in the market. Moreover, if these goods were discovered to be substandard during the inspection, it would put more cost on the company, as they would have to rid the food of any foreign substances.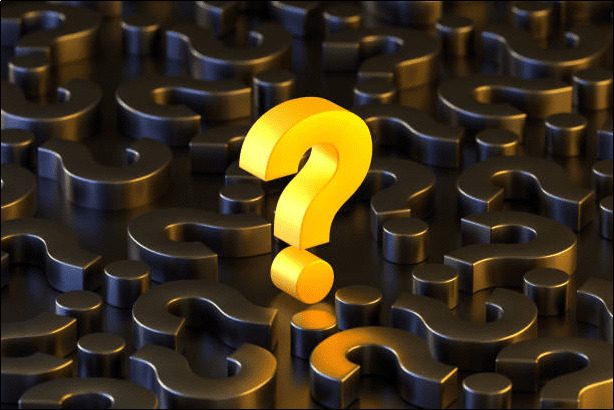 What Is the Name of the Legislation Associated with Food Safety?
The FDA has a new act – the Food Safety Modernization Act (FSMA) – looking to better prevent exposure to foodborne illness by putting forward preventive measures. The FDA has made seven policies targeted at implementing FSMA to ensure the safety of foods that hit the market. These guidelines are designed to take specific actions that prevent food contamination by humans and animals. 
What is the Definition of Food Safety?
Food safety involves routine measures regarding the preparation, handling, preservation, and storage of food products to prevent or reduce the risks of food-related illness and injury.
How Important Is Food Safety in Food Production?
Food safety is critical to food preparation, handling, packaging, and storage. It aims to protect consumers' health and ensure their safety against food-related illnesses and injuries. Food safety is a collective effort and must be maintained at all production levels.
Regardless of the kind of food item produced in any manufacturing factory, the company must abide by the necessary policies and guidelines to maintain food safety. Owners of food manufacturing companies must ensure that all their staff is conversant with all the details, including intricate information on food safety legislation, to ensure that all their products are up to standard.
A report by the FDA indicates that every year, one in every six people in the US – about 48 million – fall ill from eating contaminated foods. Therefore, food manufacturers must make it a priority to reduce this number by maintaining food safety.